Ask the Game Experts: Localization FAQs Answered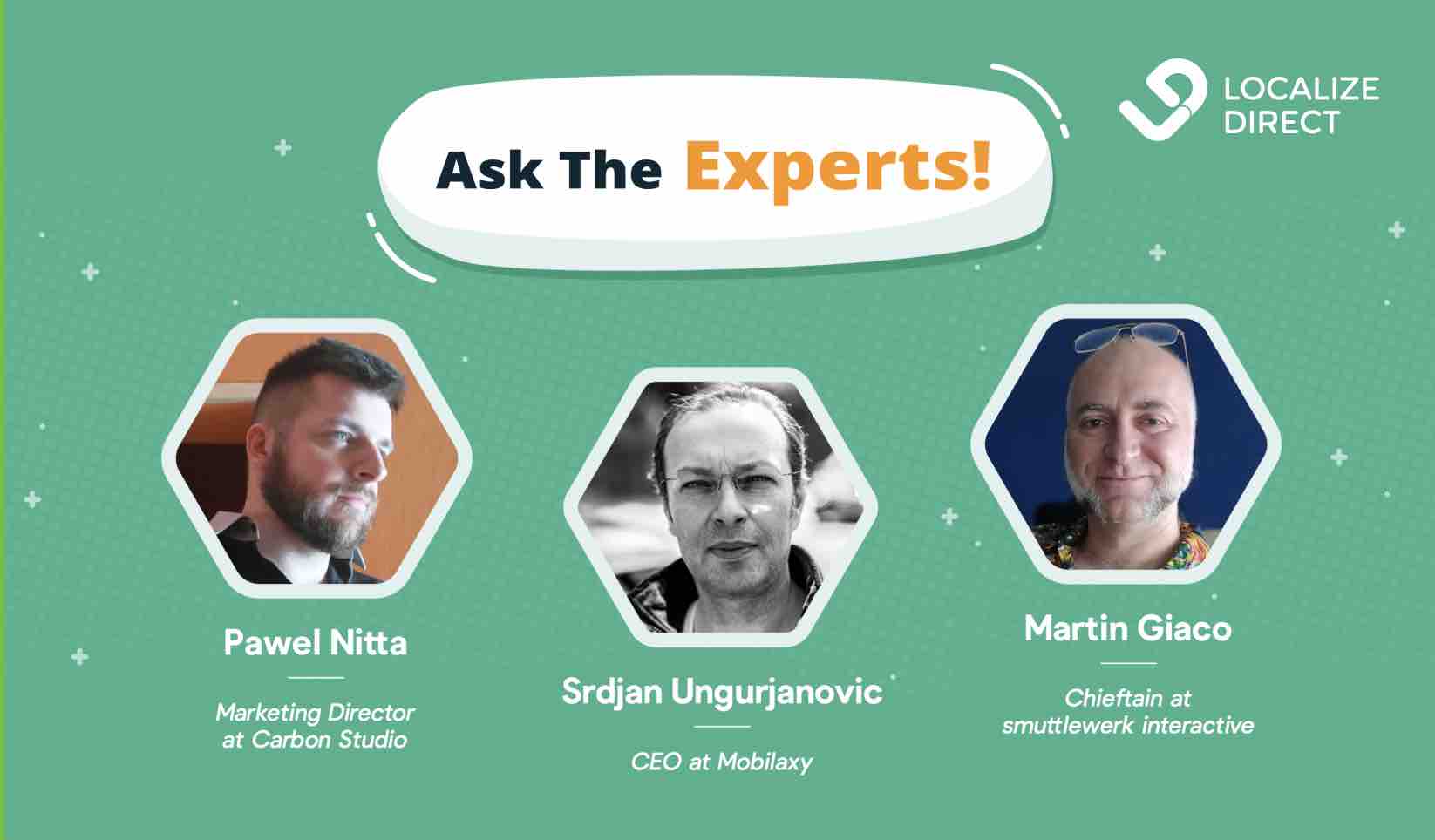 Ask the Game Experts: Localization FAQs Answered
There's a lot to consider when it comes to good localization. How do you start localizing? What are the most popular languages for localization? Should you use localization quality assurance, and how? How do you even do localization?
We sat down with three industry pros to find out what they think are the most important things to consider. So whether you're just getting started with localization or looking to improve your process, the expert guidance below will give you the insights you need.
Before we go through these experts' thoughts, we would love to share our internal game localization checklist. Always make sure you answer these checklist questions, then kicking off your game localization projects.
How can you improve your localization workflow?
Automation can streamline your localization processes to ensure quicker product launches and content updates. "The biggest challenge is keeping everything up-to-date and maintaining good communication with translators," says Pawel Nitta, Marketing Director at Carbon Studio, the studio behind Warhammer Age of Sigmar: Tempestfall.
"Sometimes a text needs the attention of someone from a writer or designer on the team, and since they are always busy, this can lead to some delays," Nitta explains. "Then, a translator needs to follow up with another question, and the person who helped needs to return to answer it. This can be a vicious cycle when left unchecked for too long."
If you're working in Unity, a Unity localization asset can be one of the best ways to optimize your localization workflow. "It has become easy to import localization files via Google Drive. We use a good localization asset from Unity3D which automates most things," adds smuttlewerk interactive Chieftain Martin Giaco. "Once everything is set up correctly, you just tap a button and that's it."
Srdjan Ungurjanovic, CEO at Mobilaxy, agrees. "We have a Unity asset that we use for localization," Ungurjanovic explains. "It works well with Google Sheets very well because it is done automatically."
Which languages provide the best ROI?
Ungurjanovic, Giaco, and Nitta all agree that English brings the highest ROI for localization. "English is the most profitable by far," says Nitta. "For us, it's English, German, French, Italian and Spanish," adds Giaco. "It all depends on how your game is monetized. Since our game is mostly monetized via advertising, Tier 1 country languages are much more profitable."
Giaco cautions against focusing your localization strategy purely on the countries that can bring you the greatest revenue per user. "We want players from all over the world. That's why we also translate into languages that offer next to no profit to us," says Giaco. 
Ungurjanovic agrees. "Some of the languages and countries with lower eCPMs may have a large number of players. It's still good," he says. "Brazil is one of the best places to get valuable users at a lower cost, if you want to have many downloads," he continues. "[Portuguese is] one of the best languages you can have, especially if you're doing paid user acquisition." 
What are the most important languages to support?
The most critical languages for localization are "English, Chinese, Spanish, Korean, German, French, and Japanese," begins Nitta. Much of the decision-making process comes down to project specifics and goals. "A lot depends on the target audience, platforms, and publishers — we might also include specific languages that would seem profitable for the project," he continues.
Giaco contends that "European languages from countries with lots of inhabitants are most important for a western studio." It may be easier, he believes, to break into those markets as opposed to those in Asia. "If you have a partner in Asia, then Chinese, Japanese and Korean may also be important. But it's hard for small studios to get a foothold in these markets."
Ungurjanovic also advocates for a project-led approach. "It depends on the games," he says. "There are some games, such as those popular in Taiwan, where Traditional Chinese is important." However, he says, localization can be a lower priority with "hyper-casual games that have less text."
When first beginning a localization project, it can be tempting to try and cover as many languages as possible. Instead, says Ungurjanovic, "Start with four or five languages, then monitor your progress to see where your users are coming from."
Is localization quality assurance necessary?
Localization quality assurance (LQA) is essential with story-driven games, or for those with larger amounts of text. "Narrative games absolutely need LQA — it's a must because the game's soul is its story," suggests Nitta.
And not just because the game's story deserves it. "Having too many errors can easily lead to a refund, because it takes away from the storytelling experience," he continues. "If you are delivering a believable experience in all available languages, it could lead to a lot of negative reviews."
Giaco highlights the importance of LQA in a cultural context. "LQA is necessary for our game Fleet Battle. The naval theme of the game means that it's important for translations to reflect the cultural background and the expressions used in the respective target countries."
Even minimal quality checks are better than none. "Our QA team can examine the scripts to see if the correct languages are being used," explains Ungurjanovic. Checking for visual quality issues, such as whether a text string fits in its allocated space, is crucial for providing a good user experience.
Key takeaway: Invest in as thorough an LQA process as you can, especially for text-heavy games such as those with large amounts of dialogue and story.

Should you use machine translation?
Machine translation and machine translation post-editing (MPTE) can be valuable assets in the right situation. While machine translation refers to automated translations performed by software, MPTE involves a translator reviewing and editing the machine-translated texts.
For both simpler texts as well as projects with many frequently used phrases, MPTE can streamline the localization process for faster results at a lower cost. "Machine translation works for very short and simple sentences," says Ungurjanovic, though he cautions against using it for anything more complex.
"MTPE works quite nicely, especially with filling up sentences that you have used before," adds Nitta. This is also where a localization glossary can come in handy, as it provides translators with the preferred translations for frequently used terms in your project.
MTPE has its uses outside game localization as well. "I do something similar when answering emails from our players," says Giaco. But he cautions against relying on MTPE too heavily. "[Automated] translators are still prone to errors and misunderstandings. I would not want to use this for game translations and our game Fleet Battle," he concludes.
Once you've chosen your target languages, the next step is to create a localization process that will enable you to get your games to market at top levels of quality. And the best way to do that is with Gridly: a content management system designed for localization.
With built-in features like Google Sheets and Unity integration, a localization glossary, automated status tracking and so much more, Gridly is a self-contained localization platform that gives you everything you need to create great work faster.
Read more: