How To Choose The Right Localization CMS: Essential Features & Functions [Part 2]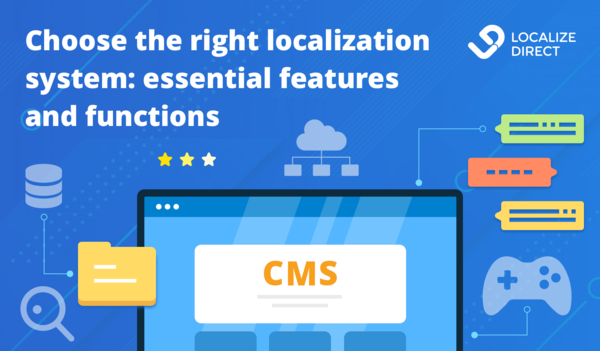 What is game loc CMS and how to choose it? >>> Find out in part 1
The right localization content management system (CMS) will enable you to localize your game for several different audiences around the globe simultaneously. It will enable developers, translators, testers, and managers to work together seamlessly, allowing you to craft a tailor-made collaborative workflow and maintain a real-time overview of progress.
A game localization CMS (like LocDirect) reaches beyond a typical translation management system (TMS), by offering a central repository for game assets. Localization CMS promises proper version control, full change tracking for true accountability, and the option to integrate directly into your game development pipeline.
If you're already sold on the potential benefits of a game localization CMS, the next step is to select one. But how do you choose from the multitude of translation software options and localization platforms? Every developer is different, so you need to take the time to drill down into your requirements and work out what your main priorities are.
What are your localization management needs?
Start out by considering what your ideal game localization system would be able to do. Investigate what's wrong with the way you currently manage localizations. Identify where the choke points in your workflow are and think about how a new localization platform might address them.
Traditionally, localization has been separated from the main game development cycle, completed in a chunk at the end, and often handled externally. If you're currently using spreadsheets and coordinating communication between developers and translators, then it's likely that things move slowly, and errors are common.
By laying out your expectations of a game localization CMS at the outset, you can start to shop around with a fully formed idea of what you need. Think about eradicating bugs and broken builds, reducing the time and cost of translations, and cutting down on wasted effort. Any game localization system you adopt should be flexible enough to fit your needs, but to choose correctly you must have a clear picture of what those needs are.
Consider game localization system by department
A good way to delve deeper into what your new localization CMS should be capable of is to talk to all the key people about what they would like to get from it. Break it down by department and ask the relevant person for their opinion.
The programming perspective
Integration with game and other tools
File structure for strings management
Version control
Ability to create rules
Support for file attachments
Programmers may prize integration, as it enables them to build the localization process into the development cycle. Instead of juggling text files or spreadsheets and having to organize things, they can create a file structure that works with the game. Since everyone is working from the same database there are no issues with version control.
The immediacy of a game localization system cuts down on wasted time; programmers can update a string or answer a question and translators know about it in real-time and can address straight away. It's also useful if programmers can set up rules to prevent overlong strings or disallowed characters, instead of having to send things back for correction. Another great feature of game localization CMS is the option to attach audio samples or image files to corresponding strings to provide context for translators.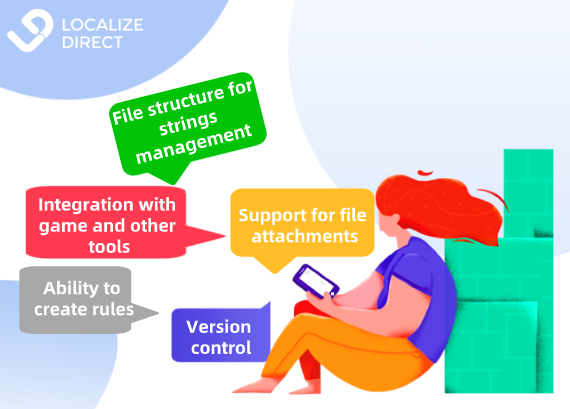 The most important loc CMS features for the game developers
Translator and tester thoughts
Wider context for translations
Track changes
Rules-based barriers
Real-time communication
Direct access
The ability to engage with a project earlier and to spend time ensuring the quality of the final translations with full knowledge of the context is invaluable for translators. Instead of sending their work off into the cloud and never seeing it again, they can view the changes made in the localization CMS and learn from them. There's also a hard barrier to entering strings that are too long or unwittingly causing other issues because the developers can set rules ahead of time.
For localization QA teams the CMS enables them to spot problems earlier and flag required changes with developers. Generally, in game development, the earlier that bugs are discovered and documented, the cheaper and faster they are to fix. In some cases, localization testers may even be able to make changes and corrections directly.
The view from management
Faster, cheaper, better
Detailed overview of progress
Support for multiple simultaneous translations
Parallel to game development
Task management and prioritization
From the CEO level a game localization CMS is all about reducing the development time and reducing the overall project cost, while ensuring that localizations are of the highest quality.
It's vital for producers that they can see precisely where the project is, what needs to be done, and what can be signed off. Any game localization tool they employ needs to offer a real-time, accurate, big picture view of localization progress. They will also appreciate the advantages of being able to localize in multiple languages in parallel to the game development.
A game localization CMS makes it possible to address localization tasks in a prioritized fashion. Producers can decide if they need to drop in new recordings or last-minute string changes and do so without causing major disruption. They can also track the speed of progress and extrapolate that data to tighten up schedules and make firm estimates.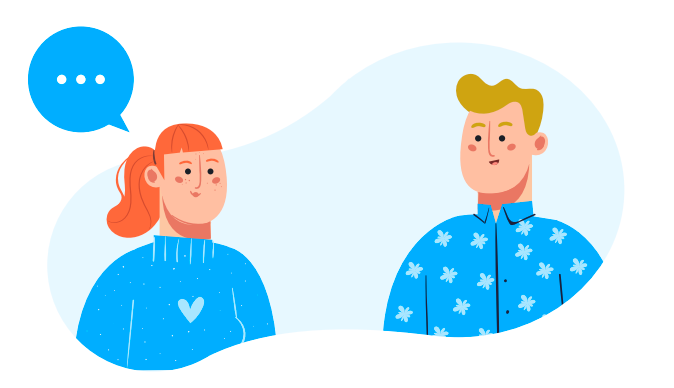 Creating a checklist
Once you have a clear idea of what everyone would like to see in a game localization CMS you can break the requirements down into a wish list or a checklist that will help you assess the localization software that's available. For example:
Central database for developers, translators, testers, and producers.
Strict access rights to reduce the risk of errors.
Fully tracked changes for clear accountability.
Version control for every string.
The ability to set character or pixel-based limits.
Customizable folder structure.
Full integration with game builds and any other tools and software you use.
Parallel translation of multiple languages.
In-depth reporting and detailed data.
Speedy search filter to help you find strings.
Full record of questions asked and answered accessible to all translators.
This is not an exhaustive list, merely an example of the kinds of features and functions you might find desirable in a game localization CMS.